Skip to Content
Lumineers and Veneers in Santa Barbara, CA
Enhance Your Smile With Veneers and Lumineers
At Jeffrey A. Stratford-Jones, we are proud to offer Lumineers, a popular cosmetic dental procedure designed to enhance the appearance of your teeth. Lumineers are ultra-thin, custom-made porcelain shells bonded to the front of your teeth to correct various dental issues, such as discoloration, chipping, or misalignment.
The difference between Lumineers and veneers is that, unlike traditional veneers, Lumineers are made from a patented type of porcelain that is thinner and stronger, requiring less tooth reduction. Lumineers are also more translucent than traditional veneers, which means they can replicate the natural look of your teeth better.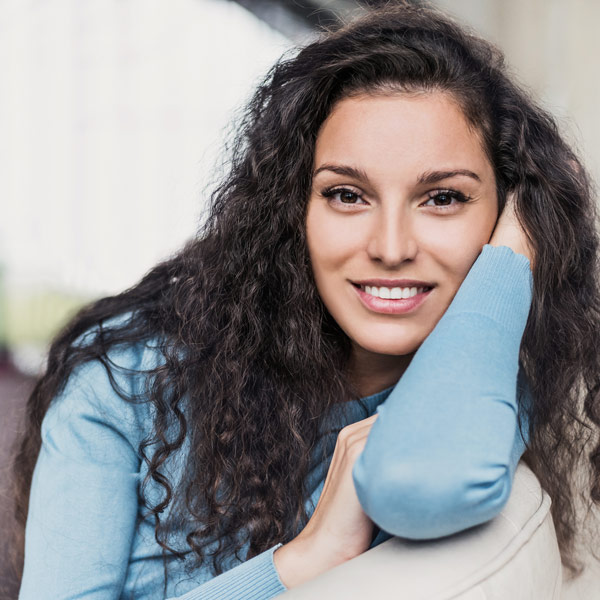 How Can Lumineers Benefit Me?
Lumineers offer a variety of benefits for those looking to improve the appearance of their teeth. Some of the benefits include:
Improved Appearance – Lumineers can help correct various dental issues, such as discoloration, chipping, and misalignment, resulting in a more beautiful and confident smile.
Minimal Preparation – Because Lumineers are thinner than traditional veneers, they require minimal preparation, which means less tooth reduction and less discomfort.
Long-Lasting – With proper care, Lumineers can last up to 20 years, making them a durable and long-lasting investment in dental health.
Quick and Easy Procedure – Getting Lumineers typically takes only two visits to our office, with no downtime required.
Are Lumineers Strong?
Despite their thinness, Lumineers are made from a strong and durable type of porcelain that can withstand normal wear and tear. While not as strong as natural teeth, they are still very durable and can last many years with proper care.
How Are Lumineers Applied?
The process of getting Lumineers typically takes two visits to our office. During the first visit, our dental team will take impressions of your teeth, which will be used to create your custom Lumineers. Then, we will prepare your teeth by lightly buffing them to create space for the Lumineers. Once the Lumineers are ready, we will bond them to the front of your teeth using a special adhesive.
Dental Veneer and Laminate Aftercare
After getting Lumineers or veneers, taking proper care of your teeth is important to ensure their longevity. Here are some aftercare tips:
Brush and Floss Regularly
Proper dental hygiene is essential for maintaining the health and appearance of your Lumineers or veneers.
Avoid Hard or Crunchy Foods
Lumineers and veneers are strong but can still chip or break under extreme pressure.
Use a Mouthguard for Sports
If you play sports or participate in other physical activities, protecting your teeth from impact is important.
Are Dental Laminates and Veneers Comfortable?
Lumineers and veneers are designed to be comfortable and feel natural in your mouth. While they may take some time to get used to, they should not cause any significant discomfort or pain. If you experience discomfort or pain after getting Lumineers or veneers, please contact our office immediately.
Exceptional Dental Care With Jeffrey A. Stratford-Jones
At Jeffrey A. Stratford-Jones, we are dedicated to providing our patients with the highest quality dental care possible. Here are just a few reasons why you should choose us for your dental needs:
Experienced Team – Our team of dental professionals has years of experience and is dedicated to providing the best possible care to our patients.
State-of-the-Art Technology – We use the latest dental technology to ensure our patients receive the most advanced and effective treatments available.
Comprehensive Services – In addition to Lumineers and veneers, we offer a wide range of dental services to meet all of your needs, including general dentistry, restorative dentistry, and orthodontics. We also diagnose and treat sleep apnea.
Personalized Care – We believe in treating each patient individually, and we take the time to listen to your concerns and develop personalized treatment plans tailored to your needs.
Cost – We understand that the veneers and Lumineers teeth cost can be challenging, but we offer great financing options to assist you.
Schedule Your Appointment With Our Dental Experts
If you want to learn more about the difference between Lumineers and veneers, the pros and cons, or any other services we offer, please don't hesitate to contact us. Our friendly and knowledgeable team is here to answer any questions and help you achieve the beautiful, healthy smile you deserve.
Contact Us for a Free Consultation
Solutions for All Your Dental Needs